You'll likely spend 90,000 hours at work throughout your career — and you may even spend more time with coworkers than with your own family!
Which is why it's so important to build strong connections with your peers.
Connected teams boost collaboration, improve communication and trust, and increase job satisfaction. But as remote and hybrid work environments become more common, creating team bonds has become more complex.
Remote workers face:
🙅‍♂️ limited in-person interactions
🌍 time zone differences
🗣️lack of casual conversations
To help you overcome these hurdles, we've put together some top tools that will allow you to create successful connections that unite your team.
Benefits of getting to know your coworkers
Connecting with team members can benefit personal relationships, team dynamics, productivity, and the overall success of an organization. Companies that nurture rich work culture experience a 4x increase in revenue growth, surpassing those with a weak company culture.

Getting to know your coworkers also builds a sense of trust and collaboration. Peers that share connections enhance teamwork and boost participation in team meetings. That's why nearly 75% of employees rate collaboration and teamwork as very important.
Teams that nurture these connections benefit from enhanced communication and increased productivity – boosting knowledge sharing and collaborative problem-solving.
Effective collaboration has been shown to improve product quality by 34% and product development by 30%.
And let's remember that strong relationships improve overall morale and job satisfaction. Knowing the people you work with and appreciating their unique qualities makes work more enjoyable.
Let's face it – no one wants to work with a grump.
Challenges of remote team relationship building
Although peer relationships offer many benefits, remote teams face many obstacles trying to connect team members.
One significant challenge is the need for in-person interactions. With no traditional office breakrooms, employees often feel isolated. This can quickly take a toll on their social and mental wellbeing.
Moreover, remote teams work across different time zones. This makes scheduling team meetings and other events challenging.
These communication roadblocks extend to casual conversations. Without knowing your peer's hobbies or interests, it can be hard to make casual conversation. But with the right plan in place, you can overcome these obstacles.
Using the strategies and tools we discuss, you'll find that it's easy to get to know your coworkers — even behind a screen!
Top tools for getting to know your coworkers
1. Icebreaker questions
Icebreaker questions are a powerful tool that can boost your team connection while reducing feelings of isolation. Typical questions relate to interests, hobbies, or sharing a memorable experience. But many teams get creative and use games like Two Truths and a Lie to make sessions more engaging.
These events are also easy to plan and organize, perfect for teams with mixed schedules. That's why we frequently use them in our teams. Our HR Generalist, Sam Asato, says, "To me, ice breakers are the first step towards allowing employees the comfortability to let their personalities shine through."
However, successful icebreakers go beyond just questions for work. To be effective, you should keep a few factors in mind.
Relevance – Ensure your questions align with the session's purpose to keep participants engaged and events purposeful.
Engagement – Icebreaker questions should be stimulating to keep peers engaged during the session.
Variety – Icebreakers aren't limited to just Q&As. Keep them fresh using a variety of formats – such as questions, games, or activities like virtual water coolers.
Feedback – Actively listen to peers' thoughts and experiences to improve sessions over time.
Using these as a guide, you'll create a space for relationships to flourish during icebreaker sessions.
Icebreaker tools
Explore these helpful tools to assist icebreaker activities:
Donut – This popular Slack app makes connections with remote peers a breeze. Connect with peers and engage in one-on-one chats, group discussions, or team lunches!
QuizBreaker – Break the ice in a fun and engaging way! Build rapport by participating in fun online quizzes with personalized questions and messaging.
Icebreaker Bot – Use an icebreaker bot to help schedule, guide, and create session questions.
2. Virtual team building activities
Participating in virtual activities is yet another powerful way to bond with peers.
These events create an enjoyable, engaging experience that assists with team bonding. You can also align them with your organization's interests and culture.
There are a handful of events you can choose from. However, we've selected the most popular among remote teams.
Virtual escape rooms
The first choice that comes to mind is virtual escape rooms. Peers work together to solve problems and clues, boosting team productivity.
Online cooking or DIY workshops
These activities offer peers a shared and memorable hands-on experience. Events revolve around skill sharing and creativity, boosting team morale, and nurturing innovation in the workplace.
Online trivia
Online trivia can be a valuable addition to building team connections. These events quickly develop and promote knowledge sharing, collaboration, and team bonding.
Virtual team building tools
Confetti – This platform offers a variety of peer bonding activities, from virtual games and happy hours to workshops and professional skill development.
LunaPark – This virtual platform provides a fully immersive digital experience. Enjoy hosted social games and icebreakers, which enhance team engagement and connection.
3. People platforms
People platforms enable teams to connect personally — beyond surface-level questions. Discover hidden talents, favorite foods, or unique shared interests among your peers.
GoProfiles
GoProfiles helps foster authentic connections with hybrid and remote teams. Our platform combines the best advantages of employee director and peer recognition to create a people-centric experience. With personalized employee profiles at your fingertips, you can uncover shared hobbies and interests among peers.
Stay up-to-date with insights into upcoming birthdays, anniversaries, and events, which can be seamlessly integrated with popular communication tools like Slack. Goprofiles also empowers you to appreciate and recognize your peers with Bravos, creating a positive and engaging culture.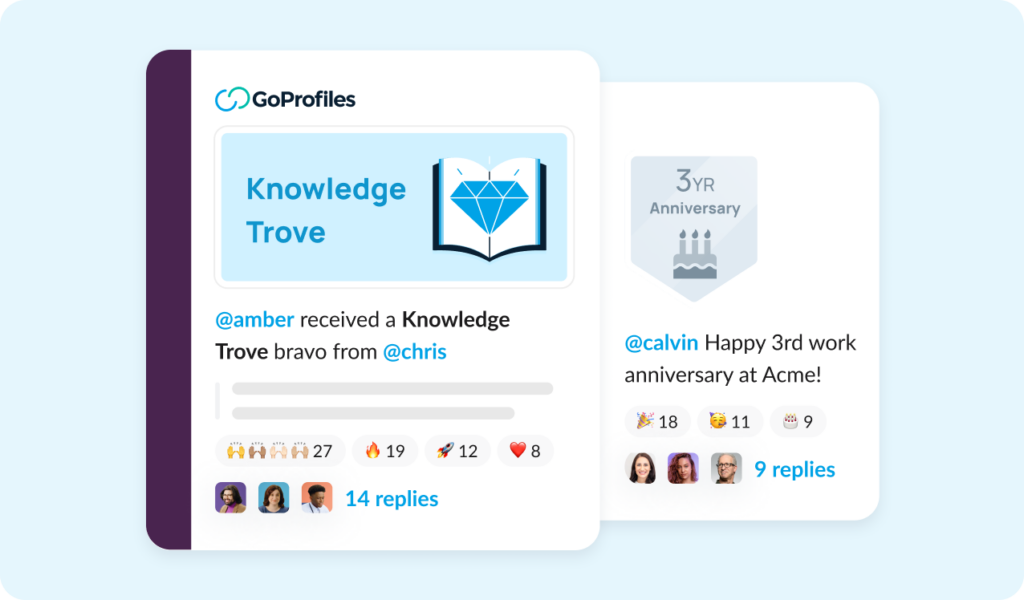 Social Media
LinkedIn and Workplace by Facebook allow employees to connect and engage more deeply. While they lack many features GoProfiles has to offer; they still have many essential features that can establish connections among peers.
You can post, share, and comment on pictures and videos from colleagues or host a livestream event and interact with viewers.
Get to know your remote coworkers
Establishing relationships with peers in remote teams is an ongoing journey, not a destination. The process requires small, consistent efforts to connect, collaborate, and engage team members, gradually leading to positive outcomes. While many challenges may be ahead, embracing technology can help minimize their impact.
Schedule a GoProfiles demo
Ready to start building genuine connections with peers? Schedule a GoProfiles Demo today and see how our platform can enhance collaboration and team bonding.