We've all been in this situation at work: you come in bright and early, write out a reasonable to-do list, and then get started. Then, somehow, you look up at the clock and it's 4:30… yet your to-do list is far from complete.
You feel like you were productive all day, but the number of items crossed off on your to-do list tell a different story. Where did the time go?
Unfortunately, you're far from alone in this struggle. According to Atlassian, employees are only productive for about 60% of their time at work. They often spend the rest of their time tracking down resources, context switching, waiting on colleagues' responses, and responding to every email and Slack notification they receive.

Clearly, these time wasters add up quickly. Below, we'll uncover some sneaky time wasters that eat into teams' workdays — and how you can implement solutions so that you and your team stop wasting time at work.
Hidden time wasters in the workplace
To start managing time wasters, you first have to track them down. Here are just a few of the time sucks that keep individuals from being productive at work.
Tracking down resources
When company knowledge isn't well-managed, employees pay the price. According to Coveo, the average employee loses up to 3.6 hours a day searching for existing company information or resources. One in two employees said they "don't even know where to start looking" for the information.

Finding the right page in the right app
Today, the average company has over 130 apps within its tech stack, with specific software used to manage teams' finance, marketing, sales, engineering, and management needs. Every day, employees switch between apps in order to respond to Slack messages, type out emails, track down customer information, and manage project tasks.

Switching between a multitude of apps, however, takes time. The average employee spends 36 minutes a day switching between different applications and tasks, and each switch generally costs them about 10 minutes of productivity. Add that up each week, and employees end up spending a lot of time and effort jumping between diverse tools.
Messaging the wrong people and wrong channels
Unfortunately, employees don't just waste time navigating apps when hunting down information — they also often reach out to the wrong people or teams when trying to track down resources.
For instance, a salesperson might message the marketing lead asking where they can find customer quotes, only to have the lead respond 10 minutes later: "Ariana actually led that project and will know where to find it. Try asking in the #marketing channel on Slack."
Sending unfiltered feedback or ideas
Sometimes, team members will share rough ideas with others when it isn't quite the right place or time for it. For instance, during their monthly meeting, the sales team might share some customer feedback themes with the engineering team unprompted, or the engineering team might ask for the sales team's thoughts on a new feature within a Slack channel.
When teams don't have a formal way of asking for or receiving feedback, team members will often pause other important tasks to respond to these requests — or else send feedback without thinking through important context or details they might have if they'd been prompted to.
Checking app notifications too frequently
According to one 2019 study, during a single day, the average person checks their email 74 times, receives 46 notifications, and touches their phone over 2,500 times. Every hour, employees get notifications from project management apps, Slack, their email inboxes, and other apps and tools.
While it's important to stay informed, all of this context switching pulls employees out of their workflow and distracts them from the essential tasks in front of them.
Waiting to hear from a coworker who's offline
For those who work at large, global enterprises, it can be hard to keep track of who works in the same time zone (and, more importantly, who doesn't) — often leading to missed messages sent when a coworker has already logged off for the day. This type of delay can mean employees often wait longer than they expected for a response to move forward with a task or project.
How to combat time wasters in the workplace
So, how can you avoid time wasters in the workplace? Let's reimagine what a day would look like if you had some tools and techniques in place to combat these common time wasters.
First of all, let's pretend you needed to find a certain resource, like a set of customer quotes. If your company used a knowledge management tool like GoLinks, you wouldn't need to spend hours tracking down those customer quotes. Instead, you would simply use GoLinks' dashboard or Slack integration to search for the quotes.
GoLinks is a short link platform that makes it easy for employees to share resources from all sorts of different apps in the form of memorable, intuitive short links (called go links). GoLinks also uses AI-powered search to make it easy for employees to find the go links they need.
For instance, in the case of the customer quotes, you could simply type into GoLinks' search bar: "Where can I find customer quotes?" and GoLinks would respond with relevant go links ("go/customer-social-proof" and "go/customer-stories").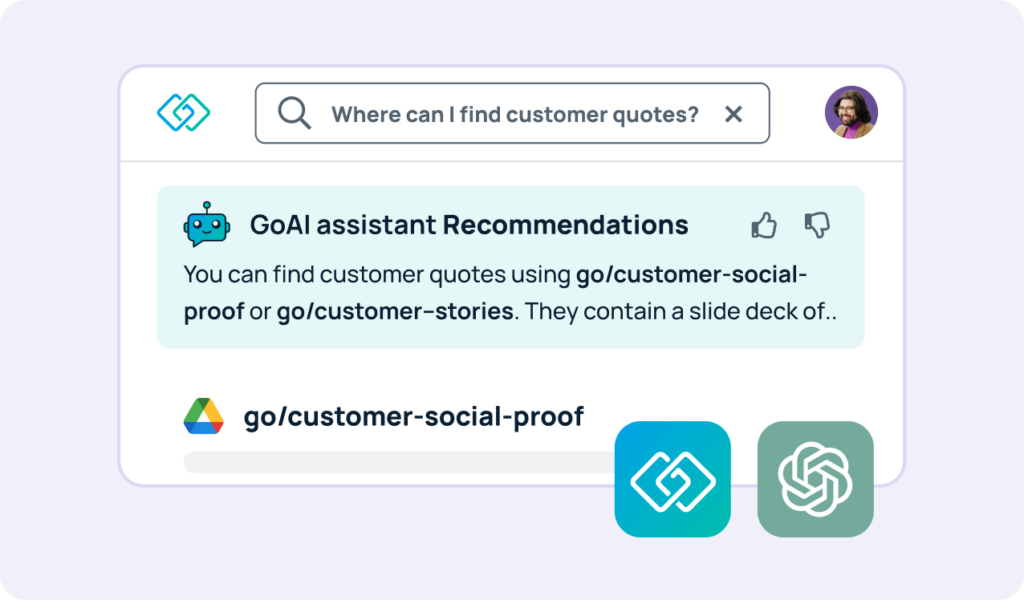 Say, however, that you checked out "go/customer-social-proof" and didn't see some recent customer quotes included (when you were certain they would be). Rather than message the marketing lead only to be redirected to the #marketing channel and get in touch with Ariana, you might decide to use GoProfiles — your company's employee directory — in order to see which team member handles sales enablement content. From there, you message Ariana directly and get the info you need, without wasting time reaching out to the wrong people.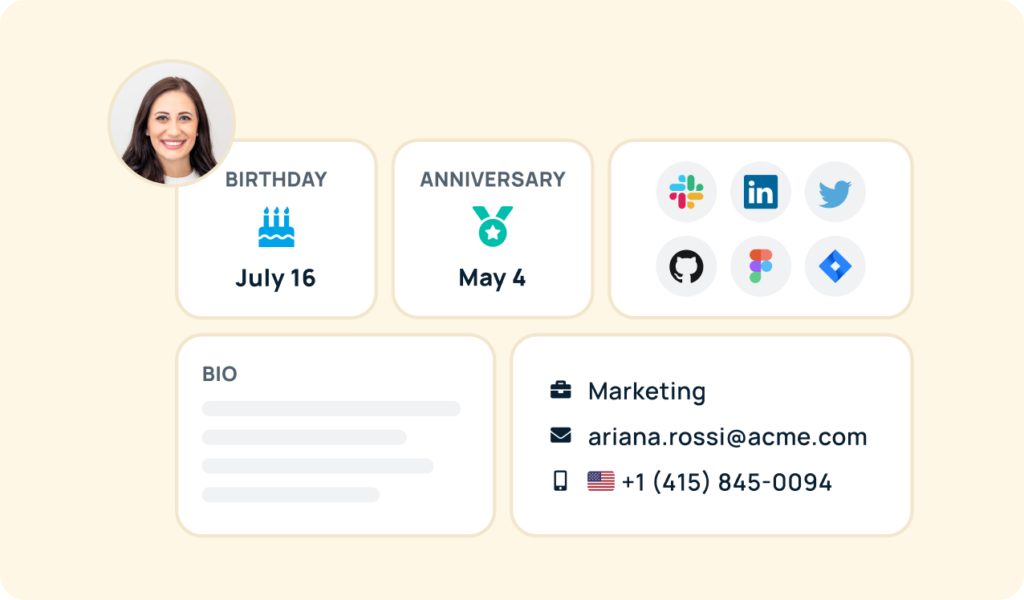 Then, let's say that you wanted to give the engineering team customer feedback that you'd been hearing.
Rather than plop it into the #engineering Slack channel with no context (only to never hear about it again), you instead navigated to "go/feature-requests" and were taken to the engineering team's feature requests form. With specific prompts, questions, and a place to attach screenshots of customer comments, you were able to leave them a suggestion with far more helpful context and details in the proper forum, where they can review it at the right time for them.
Of course, you were able to check these items off your to-do list without being incessantly interrupted because you worked in 25-minute time blocks using Pomofocus, a free, time-blocking app that enables you to do focused work for 25 minutes, followed by a 5-minute break.
During the 25 minutes, you change your Slack status to "focus mode" and turn notifications off on your laptop and phone — then only check your email and Slack during your 5-minute breaks or at dedicated times during the working day (such as morning, early afternoon, and before logging off).
Finally, before logging off for the day, you realize you need a quick answer from someone in the marketing department. To ensure you get a response in time, you check the GoProfiles employee map and filter employees by their department (marketing) and time zone. Seeing that two employees are in the same time zone as you, you reach out to them directly and hear back promptly — rather than waiting until tomorrow morning. One more task crossed off the list!
Combat Time Wasters at Work with GoLinks & GoProfiles
Fortunately, combatting time wasters doesn't mean implementing complex organizational systems, becoming a master multitasker, or eliminating all online distractions. It just means making organizational information — from resources to employee info — easier to find, share, and access.
To learn more about how GoLinks and GoProfiles can help you meet your time management and productivity goals, schedule a personalized demo with the GoProfiles team!