We've all felt the impact when a coworker, supervisor, or direct report disengages from work. There's more slack to pick up, more tension in the office, and less rapport between team members.
Sometimes, one employee's disengagement is beyond anyone's control. Other times, it's a widespread result of poor management or bad company decisions – which means there are concrete ways to fix it.
But how exactly can you boost employee engagement?
It's a million-dollar question – or more specifically, an $8.8 trillion-dollar question. That's how much low engagement costs the global economy.

This article explores the cost of disengaged employees, including compelling stats that reinforce the need for better engagement in the workplace. We'll suggest concrete ways to address the problem and motivate highly engaged workers.
The true cost of disengaged employees
Employee engagement surveys and research give us compelling numbers on the cost of disengaged employees. These stats reinforce that all successful companies – startups, enterprises, small businesses, nonprofits, highly profitable companies, and everything in between – should look to improve their employee engagement factors.
Here's one way to calculate the cost of disengaged employees:
Past research suggests that actively disengaged employees cost about $3,400 for every $10,000 in salary (or 34%). If the average salary at your company is $65k, that means you're annually losing $22,100 per disengaged employee. And that's just the financial impact. Below, we outline other important outcomes tied to employee engagement.

Disengaged employee stats
Gallup's research found that companies with high engagement outperform companies with low engagement across these key business metrics. Here's how low-engagement companies fall behind:
Workforce presence
81% higher absenteeism
43% higher turnover for low-turnover organizations
18% higher turnover for high-turnover organizations
Employee wellbeing
64% more safety incidents
66% lower employee wellbeing
Customer satisfaction
41% more quality defects
10% lower customer loyalty
Company success
18% lower sales productivity
23% lower profitability
These numbers have a significant impact on workplace culture, brand perception, and customer experience. For instance, if low engagement causes 18% lower productivity, your company could suffer financially and lose investors' confidence over time. Get a clearer idea of that impact by measuring remote employee productivity.
That lost productivity also impacts customer interactions. If a CS rep feels unmotivated, they'll handle fewer customer complaints in a timely, helpful manner.

Addressing the disengagement problem
Getting rid of disengaged employees isn't the solution. For one thing, the cost of replacing an employee can range from 0.5x to 2x their annual salary. In other words, a high turnover rate is expensive. Plus, layoffs damage the morale of more engaged employees.
Instead, you should focus on improving employee engagement by taking these proactive measures.
1. Bolster at-risk employees ("quiet quitters")
Don't let at-risk employees slip into active disengagement. This category includes "quiet quitters," or people who show up but aren't engaged. It's a larger group than you'd expect – research indicates that over 50% of employees are quiet quitting.
To improve remote culture and reduce quiet quitting, try these digital employee experience ideas.
2. Train better managers
Managers are responsible for 70% of team engagement. So, any effective solution must include training for managers. Teach them best practices for supporting employees, assigning meaningful work, and building positive team culture.
3. Introduce recognition programs
Recognition plays an important role in engagement. In fact, great recognition causes a 20x increase in employees' likelihood of being engaged. And if a business with 10,000 employees were to double employee recognition, it would see a 9% improvement in productivity. That's around $92 million in gained employee productivity.
Streamline employee recognition with GoProfiles
GoProfiles is a people platform that fosters higher engagement, better management, and company-wide recognition. Its peer recognition feature lets employees award "Bravos" to teammates. These badges show appreciation for a job well done and make engagement easy. Managers can even use Bravo data to personalize praise or identify people at risk of disengagement.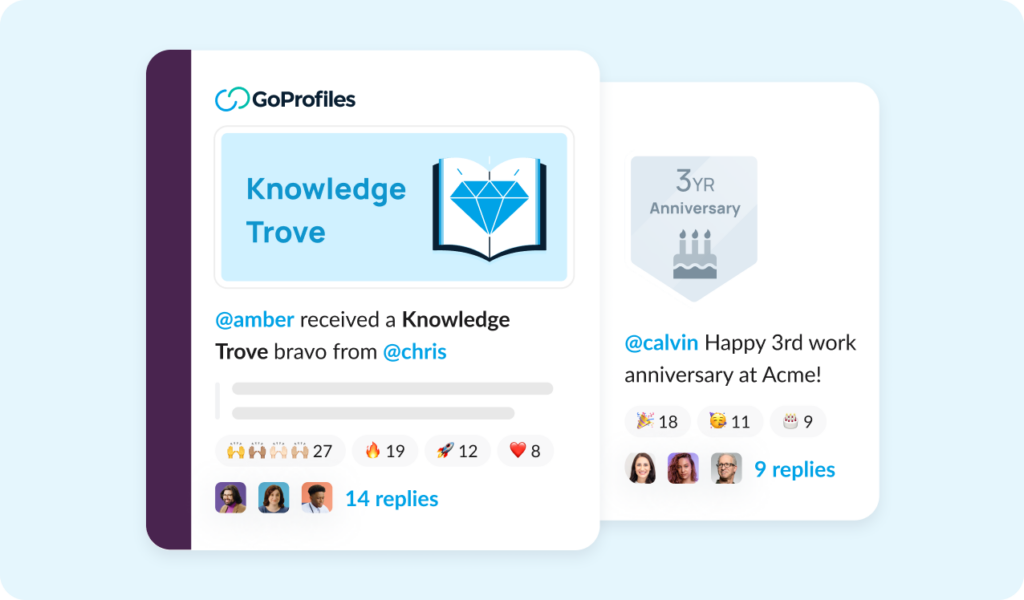 These features make GoProfiles a great engagement solution:
Peer recognition badges that surface publicly
Company-wide map to indicate nearby coworkers
Personalized employee profiles
Org chart and directory
Slack integration with automated anniversary and birthday shout-outs
Team analytics and insights into company engagement trends
When the cost of disengaged employees is so high, GoProfiles is a no-brainer solution. Ready to cut that cost? Book a demo to learn how GoProfiles can help you create a culture of genuine recognition and engagement.