We've been saying it for a while now — remote work is here to stay.
Countless companies recognize the benefits like a wider talent pool, reduced overhead costs, better work-life balance, and more. But as companies feel more and more spread out, it's harder for coworkers to stay on the same page.
This issue increases for organizations operating in multiple time zones. When half your team is asleep while the other half is working, you need to be proactive about fostering a collaborative company culture. Even a three-hour difference between remote workers can affect their sense of community and introduce productivity bottlenecks.
The good news? There are plenty of tools to connect your dispersed team and enable effective remote collaboration. With the right strategy, you can harness all the benefits and handle all the drawbacks of working across time zones.
In this article, we'll cover:
How to overcome time zone differences
Tools for effective remote collaboration
Tools for building remote culture
How to overcome time zone differences
If your company is dealing with time zone differences, you're not alone. One survey found that 98% of remote workers have coworkers in different time zones. All of these people have needed to overcome the two main challenges posed by dispersed remote work: disrupted collaboration and disconnected culture.

We'll tackle both of these issues below. Let's start with collaboration, a widely recognized challenge of remote work. In this remote work survey, 20% of respondents cited difficulties with collaboration and communication as their biggest struggle with working remotely – and 10% specifically listed being in a different timezone than teammates.
Here are some best practices for improving collaboration within your dispersed workforce:
Harness the power of asynchronous communication – not everything needs to happen live. Sometimes it's more convenient and time-effective to send an email than to schedule a meeting. You can even schedule emails or Slack messages to send during colleagues' active hours – this shows you respect their personal time and trust work to happen when they're on.
Learn to adapt – different solutions work for different teams, and sometimes you need to try multiple strategies to see what fits for yours. Embrace flexibility. After all, that's one of the main benefits of remote work, and it drives everything from innovation to job satisfaction.

For instance, one team may solve problems best by communicating over chat, while others might thrive with quick off-the-cuff meetings.
Communicate clear guidelines – establish expectations about response times and preferred communication methods with supervisors, across teams, and company-wide. Maybe you use a high-priority Slack channel for time-sensitive requests. For less urgent communication, you could update workflow tickets and tag people when a project is ready for review or handoff. 

For related tips, check out this article on ways to make communicating at work way easier.
Create structured check-ins – balance async and sync communication by scheduling regular, spaced-out meetings. A weekly one-on-one with your supervisor allows you to knock out several days' worth of questions, and a biweekly or monthly all-hands meeting gives space for progress updates, demos, and feedback. 
Embrace cross-cultural sensitivity – global teams should be mindful of different cultural practices and holidays. Maybe you create an org-wide calendar where anyone can call out celebrations like Lunar New Year and Diwali, or your company could institute a flexible PTO policy for religious holidays.
Tools for effective remote collaboration
Building and maintaining a collaborative team culture is hard, especially in a virtual environment. And if your team's preferred work hours overlap only slightly, it's even harder.
We've got general tips on creating a collaborative office space, but when working across time zones, you might need more unique solutions. Here's what we recommend:
1. Solutions for time zone clarity
The first step to remote team success is understanding when and where your team works. This basic information creates transparency, facilitates scheduling, and manages expectations. Once you recognize time zone differences, working around them is easier.
Various digital tools help simplify the math around time zone calculations. Input your teams' different cities, compare time zones, and get recommendations for optimal meeting times.
Tools: World Time Buddy, Time and Date, Every Time Zone
Use your daily digital tools to clarify your online hours. For example, online calendars like Google Calendar list team members' time zones and automatically update your time zone if you're traveling. Or, communication platforms like Slack can show your in-office hours, meal and rest breaks, and OOO schedule.
Tools: Google Calendar, Slack, Microsoft Teams
Another good source of locations and time zones is an employee directory or employee map. Options like GoProfiles help you easily find time zones on employees' profiles – so you don't have to ask them in Slack every time. Plus, its map feature visualizes your distributed team.
Tools: GoProfiles, StaffBase, InstaPeople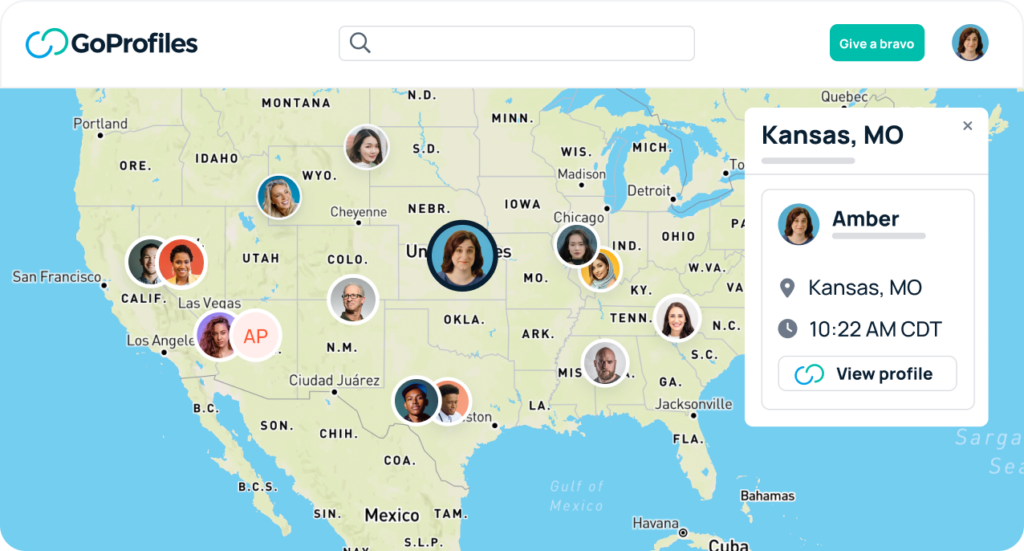 2. Knowledge management solutions
In any company, effective collaboration requires accessible information. This is especially true in companies working across time zones, since information silos and workflow bottlenecks can waste days at a time. Streamline information access with knowledge management solutions, which can be broken down into these categories:
Knowledge base

What it is: a self-service repository of information with distinct creators and users
SaaS options: Bloomfire, Stack Overflow for Teams, Slite

Corporate wiki

What it is: a central database that lets any employee create and edit content
SaaS options: Confluence, MediaWiki, Tettra

Enterprise search

What it is: a search platform that combs through and retrieves internal data
SaaS options: GoSearch, SearchStax, Elastic Enterprise Search

Link management

What it is: a way to organize, create, and share short links for navigational ease
SaaS options: GoLinks, BL.INK, OSlash
Internal Link Management apps provide simple, scalable knowledge management. They're more than just URL shorteners – they're both aesthetic and functional. For instance, GoLinks allows you to create memorable, shareable go links that surface internal resources. This enhances asynchronous work by empowering self-service and connecting every employee to the resources they need.
Learn more about how you can benefit from an internal link management app like GoLinks.
Tools for building remote culture (while working across time zones)
Employees work better with people they know. The trust and camaraderie built in interpersonal relationships can boost productivity, creativity, and output across all aspects of work. But when you're working with a dispersed team, it can be harder to form those connections.
The following tools help overcome the challenge of a disconnected culture. With these ideas, your remote team members can build working relationships with people who live half a world away.
1. GoProfiles
This people platform is all about building a culture of genuine connection. It's 50% employee directory, 50% peer recognition platform, and 100% focused on the people at the heart of your company.
It's especially useful for people working across time zones. As mentioned above, it lists time zone information clearly in each employee's profile. Their physical location appears in the org map, which lets you visualize your dispersed workforce and arrange meetups by location.
Our company loves to use the map for "golinking." We meet up with people in our general area for breakfast, drinks, or even axe-throwing (yes, our Bay Area employees actually did that).
Another way GoProfiles promotes a positive culture is through peer recognition awards, called Bravos. These appear publicly on profiles, surface in designated Slack channels, and accumulate over time to show how much teammates appreciate each other.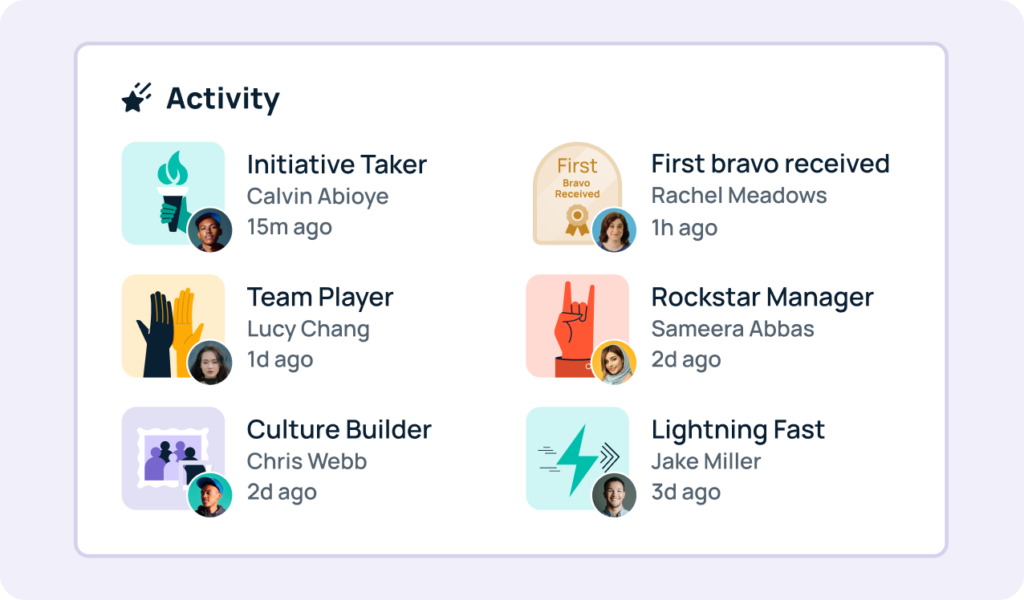 2. Virtual game platforms
There are countless fun games to help build relationships across distributed teams. The only drawback is that these often require synchronous interaction, so you'll have to plan ahead. Here are some ideas:
Create timezone cohorts to connect people who are within three hours of each other. So, the Beijing contingent could challenge coworkers based in Melbourne to a fun game. Try Gartic Phone (think telephone plus pictionary).
Plan synchronous interactions at regular intervals and far in advance. Ask people to hold time on their calendars for a quarterly virtual retreat – then it's a built-in expectation. Give yourself time to plan something exciting. Our Culture Committee recently entertained us with an hour of live mini-games on Luna Park.
Invest in the best experience. This usually means paying for a virtual game platform with better support, a wider variety of games, and a more engaging UI. Some paid solutions are Jackbox Games, Confetti, and Team Building. If you're a smaller, cost-conscious team, you can still have fun with free team-building games.
3. Icebreaker and polling tools
Plenty of companies are implementing virtual water coolers and coffee chats, which is a great way to foster casual conversations. The only problem? How to get those conversations started.
Virtual icebreaker tools provide thought-provoking, funny, and/or reflective prompts that help teammates connect on something other than work. At your next team meeting, stir up some low-stakes controversy and watch the friendly debates unfold.

Tools: Donut, Water Cooler Trivia, Would You Rather Generator
Polling tools similarly encourage engagement during real-time meetings or in async communication channels. Some video conferencing platforms have built-in poll functionality. Other options are specifically designed to collect and visualize feedback.

Tools: Google Meet, Mentimeter, Polly
Close the distance between remote employees
With these tools, remote collaboration and culture challenges are a thing of the past. Embrace the future by working across time zones efficiently and effectively. If you want more ways to support your remote team, check out these digital employee experience ideas.
Ready to reconnect your dispersed team? Try GoProfiles, a people platform that shows you who's working – when, where, and on what. Schedule a demo to learn more.